Le Wind Gom-Gom est un instrument composite entre la harpe éolienne et l'arc musical éolien.
Dans la version 1, le ruban et la corde étaient métallique.
Dans cette nouvelle version, le ruban est en lien plastique utilisé pour les emballages : largeur 12 mm, longueur 1m. La corde est en polyester pré-étiré 2mm.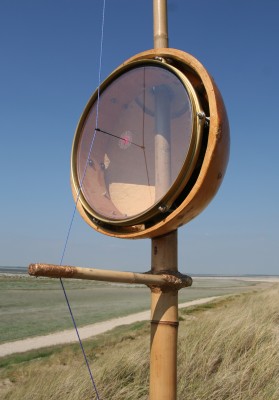 The Wing Gomgom is a compound instrument between the aeolian harp and the aeolian musical bow.
In the first version, the ribbon and the string were in metal.
In the second version, the ribbon is made of 12mm plastic ribbon for packaging. The string is a 2mm pre-tightened cord.